ADz Art part 1
THE LIFE OF A FRUSTRATED, ANGRY, AND HIGHLY CREATIVE ARTIST!
Thursday, 6 March 2014






Imagination + aroma of marker pens = this!
Wednesday, 9 March 2011
ADz Art part 1: Intro
: "Hello I am AD, and this is my world!UK Alternative and highly CONTROVERSIAL Artist/Cartoonist/Sculptor/Creative Modifier/Photo manip..."
Friday, 18 February 2011
Hello I am AD, and this is my world!
UK Alternative and highly CONTROVERSIAL Artist/Cartoonist/Sculptor/Creative Modifier/Photo manipulator/Photographer/T-Shirt Designer.
I have been banned, ostracised, censored, deleted and just told to leave, on many occasions, all in the name of ART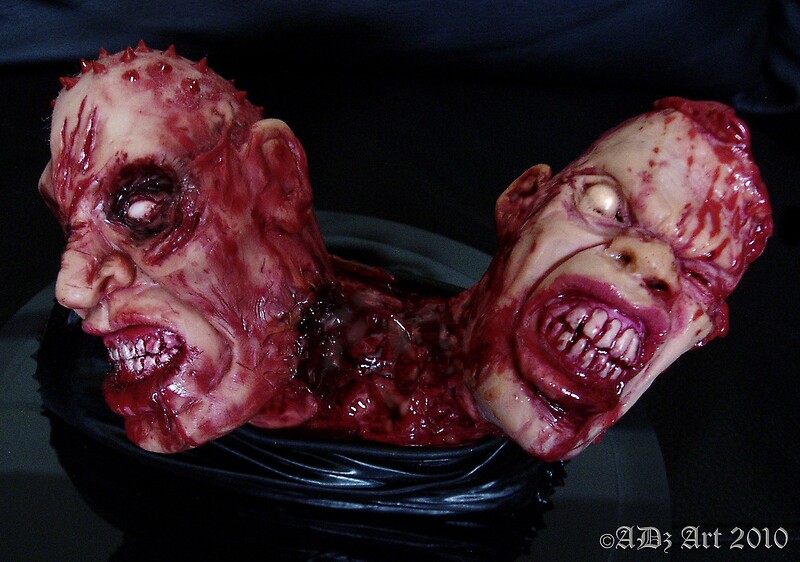 I can think of many more and intensely amusing and gratifying ways of upsetting people other than spending time and effort DRAWING or creating a piece of ART!!
But to those who know me and love me, they will tell you all day long that I am a pretty decent moralistic guy with strong views and a passion for
and I DO NOT go out of my way to annoy or upset any one - some(NOT all)of my work is very graphic and possibly CONTROVERSIAL, but at the end of it all, it is NOT REAL - real life is far more upsetting and you can look and download that all day long if its your wish, my stuff is straight from my wrist(ooher) it flows and I don't use any templates or copy anyone's style.
I draw, sculpt, take photos, modify dolls and toys, manipulate pictures digitally....
....and draw onto all types of media, including T-Shirts and vehicles.
My work is all one off and unique, I am not a copy Artist as that's a different skill, I do have one problem - I can't duplicate my work, some may say that's not really a problem, it can be frustrating some times.
Anyway hello welcome to my imaginative visual world.
MY WORK SPANS MANY AVENUES.
AND SEE THE IMAGINATIVE WORLD
OF MY CRAZY MIND AND ITS CONTENT!
Welcome to ADz Art, you will be forever, a changed onlooker, of life itself!
MY ART has been on many sites,
in this vast world of talented folks -
it is hard nowadays to make an impact
and stand out from the maddening crowd.
I should know, I been trying for years!
DISCLAIMER - PLEASE READ CAREFULLY AND NOTE WELL
BEFORE YOU JUDGE MY WORK, THANKS!!!
I do not condone any acts of real violence or explicit
cruelty in real life, Art is Art, and that's what I do, my
imagination is not subject to censorship nor is it to
I would like to feel that in any creativity and Artistic
design there is no rules that stop us from self expression,
therefore it IS quite simple..........if you find it not to
your taste, then treat it like the TV, when a program
seems offensive to you.........
I will be blogging all my life from the early 1970's to
the present day....so many hard to believe but absolutely true,
stories of my varied life, some of it amusing some of it
pretty hard to swallow, but always entertaining!


Well cock a doodle doo, I sold a piece of Art on Ebay, but not gonna order my 1970 Plymouth 'Cuda 340 six pack in sublime, low mileage example £25,000 – just yet!
It was a cartoon that I was messed about with many years ago and it was worth £300,
....what did it fetch?
£50!
?
?
?
Yet I sell shite I find on the local tip & flea markets for 100 times more on Eekbay!!!
How fickle life as an artist is eh!
If I was recognised then I surely would have expected my agent to get three figures for this work, as I put loads of time and effort in it, but alas, it was not to be.
But its better than a kick in the goolies!
Crescendo was a caricature of classic composers of the latter centuries – A1 landscape in ink.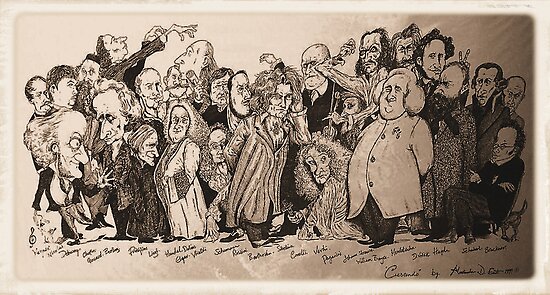 It has gone to someone who does appreciate it though, a collector of classical music.
But…..it still gnarls at me that I did all that for 50 squid !
...such is life…..
....good job the car boots start soon so I can make some REAL money!!

DEAD SERIOUS
Yep I used to have a full size, MY size, death casket, and I loved it, I was origianlly on the market so to speak for a coffin to make into a cabinet for my sculpture.
But what I am about to tell you now, I could not make it up!


IT ALL STARTED….
I put the word round that I was after a drop box and had someone who worked in the mechanical side of a funeral service, he was in the workshop that dealt with the vehicles.
They used a brand new coffin to store bits n bobs, tools etc.
It was a funny day, on one summer Sunday in 1998, I had been to a Toy Fair and had been feeling a rough, I came home and flaked out on my sofa, I felt cold/hot generally ill, about 6pm the front door knocked and it was my mate who had a "coffin lid" by his side, he said he had something for me….and proceeded with his pal, proper PALL BEARER style, to whisk in my home…..a pine coffin.
Only hell can guess what any neighbour thought if they saw this.
I was very impressed, he said "would I like to try it out for size?"
It was a perfect fit.
He said that they no longer needed it and it was in clean perfect condition, just needed the accessories putting on, handles etc, to which he presented me with a big bag of bits for the box, all in gold plated…..plastic!!!!
it was some days later….I was diagnosed – with pneumonia, I was 38, and never had anything like it, dunno why I got it, I just did, it was pretty bad.
The doc said if it were not for drugs, I would be on a slab in the Morgue – nice!
I had a few visitors the following several weeks as I lost over 3 stone, and was very weak, one geezer my Mum knew when she was alive, John, came to see me, I did my best to cover the coffin in the front room with black cloth, but what do you get if you cover a coffin with black cloth?
A coffin covered in a black cloth!
DUH!
He came to visit me – passed through the front room of the house to see me in the lounge, I could tell by the look on his face that "he seen the box" and he said after a moment or two…."is that…a….." YES its CLEARLY a coffin mate!!!
.....he was spooked to hell. saying "Its a bit morbid…"
One mate flatly refused to come to see me while the box was there.
It was a friend remover – par excellence!
I got better…..and fixed the handles on…..
The Sell Of Death
When I moved to where I live now, I took the coffin with me and used it to store clothes…..

Then I decided to move to Oz (actually didn't go) and this was gonna have to be sold…..so in my madness….ahem…..I put an ad in the local paper under the heading "Coffin Wardrobe" in the late 1960's – early 1970's a single mans wardrobe was often called a "coffin" but the ad got many confused and when one bloke asked "how many drawers had it got?" I said "NONE…its a REAL COFFIN!!"
....he hung up…...and then some phonecalls were made to the editor, who then in turn rang me, not to complain, but absolutely fascinated and said would I like to be interviewed…...

,,,the thing was….I didn't realise that although it had been advertised locally it also went in a national free paper that spanned the country…..
the offers came in AFTER it was sold locally to a very off beat girl who had many more in her home, my mate and I delivered it but even though my place is weird, my mate got the willies when he entered this woman's house.
It was dark and had many remnants of death items such as ash filled urns and other cemetery related ob jet da!
...I had many a call from Brighton one couple who wanted to have sex in the thing, and I could have watched….honest…..!!!

Well as you can guess, I did not leave the building and I sold it way too cheap, and it made the local news, the Lid I sold separately to a shop who used it as an advertising gimmick, I and my cousin walked through the city with this lid to the surprise of many who thought we had been down the local cemetery picking off the odd memento.
(below – me in front of the box, with movie quality fangs, holding severed arm prop and an ex slaughter house "Pig Splitter" cleaver…now… that's another interesting story…)

Thanks for reading this totally true event in my life, if you want more, stay tuned I have much to tell, have a lovely pleasant DEATH free day!!
Well, I have not been that active as far as ART is concerned but thats because of a couple of reasons, first I got my Ebay up 'n' running as a seller, something I had been planning for ages, OK OK – I joined the party late but – better late than not at all.


And it posed a challenge as to make my ads more appealing like my mate Chris, suggested.
So for some time now I have been a bit pre occupied with that, and have been putting my Artistic bent into flogging odd stuff that I have collected for many years, and although I am not making enough yet, to put a deposit on an authentic 1970 Chevrolet SS Chevelle or a '71 440 Plymouth 'Cuda, its certainly earning me more than my damn artwork does, which in a way – is sad, put fact!

The other reason is my beloved woman has been in hospital to get her gallbladder removed, I said I would do it, but she made the bad decision and went into a "hospital"
She is recovering fine and now her life will be so much better without the pain…...
.....what do you mean "But she still has the pain(me)?"


So all projects, scanning, more gore mods photos(inc Snack II) went on the back boiler but I will be getting on top of it all very soon.
INTERNET & BLOODY DEATH

We've all done it, we start off looking online for a site that sells nose ointment, then all of a sudden, we are looking at some mental case trying to push a kettle up his bum!
I was looking at some HD DVDs on Ebay then I check on another site to see what the review is, the film in question is The Twilight Zone – the movie – I was somehow linked to the three deaths that occurred when the movie was made, unknown to me all this time(I have the DVD import- it was quite hard to get)and now I know why, an actor(Vic Morrow) and two children were hideously killed during shooting of the movie.


The thing is he was decapitated by helicopter blades, in a scene that went terribly wrong, and so was one of the children, the other child was crushed, and yep, in true internet style, you can see their deaths on good ol' youtube, jeezuz bloody wept.
I recall this underrated actor and was very shocked of his demise and the footage is pretty nasty even though you dont see detail – its just awful, what a waste and a truly nasty way to go.
But I am pretty much used to the super highway of ever decreasing depravity and this need and obsession to see real death at our fingertips.
I admit to having a morbid fascination, with all things dark and gloomy, and I do wonder where it will all end and will it be eventually the trend, to actually make sure – that some buggers mobile – is definitely switched on, when we all peg it?
I then found myself on the tube looking at the stage death of one of Britain's best loved comedians, Tommy Cooper, I saw Tom many times in Leicester, he was a bit worse for the booze, but he was respected and loved dearly, and still is.


I have since found his humour not that funny nowadays, its a personal opinion – but some comedy doesn't age, some does, and I think we just laughed at different things in the '70's, as in Morecambe & Wise etc, and times were different then.
My Dad loved the Cooper show, and I can see my Father now, tears rolling down his face at the antics of this huge 6ft 4 bloke with size 13 shoes.
I had heard about the footage many years ago, and never viewed it, I had to look for a full clip of it and I was drawn to the many comments that said how sick the audience was at laughing, but how could they have known?
Tommy was TOTALLY unpredictable on stage, so no one should feel guilty.
Seeing the big guy die in front of millions, was pretty disturbing – even with all the shite I have seen online, be-headings and gawd knows what, this….
...was U.K. TV and …
...death
....what a bloody match, but as he always does, the bloke in the hoodie, with a psyche – won, as he will continue to do.
So what do we say, do we now just accept, that should the worse happen…...
.......and I mean WORSE!
.......there may be a chance…...
.......a bloody big fat chance…..


That if the 4×4 runs you over, you can sleep well in knowing, that someone, somewhere,
just may have filmed it, and you will, by the power of the electronic super fucking highway….
Be immortalised in pixels…...so all the internet can pay their tribute to you!
Do have a nice day…..

SHOP HORROR! My short lived business - SHUT DOWN!

The year is 1994, and I get a great offer of having a large shop in a city centre for a low cost rent, how can I go wrong?

(I have mentioned this story in brief – now here is the full version.)
This is just ONE of the downfalls with my talent I was facing at this period.
There are others – one where I had an exhibition at a local craft fair
where some daft Bible basher wanted me to be removed but that's another story.
So in true paparazzi headline fashion -
THE SHOCK HORROR SHOP SHUTDOWN!!
I was offered a large ground level shop in 1994 by a mate who ran a café.
He said that I could put my work(T-shirts/sculpture/gore trinkets) in it but knowing what I do he would be happier
if I "BLANKED OUT" the windows so not to offend as this shop was in an arcade next to
a café and other so called respectable shops.
GIFTS WITH GUTS!!!


The only problem was that blacking out a place can make even more sinister and thats
exactly what happened, many who entered the place were disappointed, in that it
wasn't a SEX SHOP!!!
(And they were mainly female…..)


But it was an exciting time to get my stuff out there and see what reaction I would get!
I had an ex work mate to help me put the shop into action, I had full use of mannequins
as the place was originally a clothes shop, there were seating and tables and a staff area
and loo, great !
I had large black covers made for the windows and above "kiddie height" I was advised to
put a type of "port hole" as in on board a ship, so "adults" could see in!
Below – actual photos of the shop on its grand opening and a young me!!

Well it was good whilst it lasted, I was in between a FORBIDDEN PLANET shop (Called at that time – "Another World" and also another arcade full of alternative shops, so I got the passing trade from them – wooo!!


I had many nice things said to me, like one chap who said he will be in here to spend his wages every week, and by the look on his face he was not kidding!!
I had music going and a great atmosphere – many could not believe it was ME who was creating the products as I still had my "Hi-Fi Shop manager" look about me then.

I did later on that week, tell some that I was just the salesman and the Artist was in the basementwhere I throw him a bit of raw meat from time to time….

But all things that are good, come to an end I feel…and although the shop had many signs that made it sparkling clear what was in this shop, I still had one do-gooding bastard that came in and then went out – - to complain, and I reckon it was a neighbouring shop!
It was the 8TH day that John came in the shop, looking like someone had goosed his wife, and without a word locked the door and then told me that I had to go.
He had a complaint from someone and he had too much to lose in that he had many investments in the Arcade not just on the café but also on this property and another café project in the pipeline.
he had been there many years and he did not wnat to argue or risk anything, so….
I was out!!
Many could say what the fuck was the problem, and I would agree, I did nothing wrong, but I was later told that the lease on the property was for selling clothes only, but I think John just took the easiest route, and kicking me out was it!
I was trading 8 days in total.
It was the 1990's.
Things were still "retarded" in terms of what folks accepted!
It gave me my answer, in that would I be a success if I had a shop.
I did not pay any charges for rent,
The shop is still there and its been a pantie shop and a D J emporium !
I believe someone from the MAP SHOP made an official complaint against me.
I am still hunting them down, my machete is ready!

....more soon….in the next instalment of my Artistic uphill struggles but don't have nightmares, sleep well and